Every once in a while though, something catches my eye for being exciting and new. Based out of Atlanta, Ga. comes such a clothing line. The line, titled 'Vintige Collection' is a stylish, upscale, urban apparel line inspired by lifestyle with the kind of flair that I've only seen in successful predecessors. I had a chance to inquire about the line with it's founder, Iman Tatum, on the brand's philosophy, what the experience has been like so far running a fashion line, and what the future holds for what shion industry?
Around the age of 23 I knew I wanted to be in the fashion industry. I was never the one to follow the trends.

What is the philosophy behind Vintige Clothing?
The foundation of VINTIGE is built on the philosophy "NOTHING ELSE EVEN MATTERS". Meaning focus on what's in front of you, not what's around you. Never let others dictate the road you follow. We represent a way of life and choose the life we live.

Who does your clothing line target or cater to?
VINTIGE targets those that dare to be different . The line does not cater to any specific age group, gender or race.

What would you say is the best thing about owning a fashion line?
I was just thinking about that the other day. The best thing in my opinion about owning a clothing line is attending trade shows and competition. New lines like myself competing with fresh ideas every season to get to the top.

What would you say is the worst thing about owning a fashion line?
I would definitely have to say financing. Money goes along way in fashion especially when stores don't want to pay and travel expenses.

Do you find that you have to overcome more adversities to succeed because of your gender?
No, not really. I think the only adversities you have to overcome are getting in your own way and comparing yourself to other lines.

What kinds of things do you do to market and promote your clothing line?
Newsletters, myspace, www.vintigecollection and word of the mouth.

Would you ever consider doing couture fashion for your line?
Yes, maybe within two years. Once the urban side of the line has went global.

Finish this for me. Five years from now Vintige Clothing will be...
A Multi-Million dollar clothing line that has flagship stores nationwide with major distribution and manufacturing oveaseas. Vintige will definitely be a household name with plans to expand the brand to home décor, accessories and different media outlets.
What advice would you give any up and coming fashion designer today?

To research as mush about fashion as you can. Determine what your niche will be and to be different from others daring to jump into the fashion industry. Attend tradeshows ,fashion related events and surround yourself with a strong team that believes in the line as much as you.

Where can people pick up your line or get more information about your brand?

We are in over 20 stores throughout the US and overseas, From NY to Atlanta to California.

You can check us out at www.vintigecollection.com

"The New Standard"; Luxury Brand Inspired By Lifestyle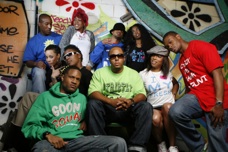 CEO: Iman Taum